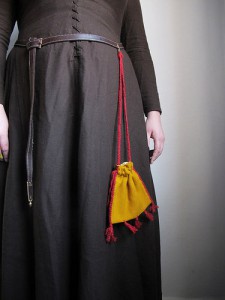 Join us for a special project that would be ideal for your garb, to be given as a present or just to learn how to do it! We will be making a Medieval Textile Belt Purse based on those worn in the 13th-16th centuries. It can be easily worn by women or men, depending on the fabric and embellishments, either over garb or under the top layer.
Instructions can be found here. We won't have time to complete the entire bag in one night, so we will be preparing the fabric, making the tassels and giving instructions on hand stitches and assembly as needed.
Please bring the following with you if you have it.  If not, we will have some to share:
Suitable exterior fabric – extant bags ranged from basic linen to elaborate embroidered silks and wools, so you can choose what suits you best. You'll need 8″x14″ for this pattern. We will have extra linen for those that need it.
Lining fabric – linen or silk, same size to be trimmed down. We will have some linen on hand for this.
Scissors, thread, needles for hand-sewing
Wool yarn or embroidery thread for the trim and tassels
---
---
When:
Thursday, December 11, at 6:30pm
Where:
Veronica's house at 101 McMullen Cir, Bear, DE 19701, USA  Google Map
*Please Park in back of housing development or in the shopping center, all spaces in front of houses are reserved for those houses.
RSVP or for more information:
Marietta: marietta.sca@gmail.com or the Shire's Facebook page under this post