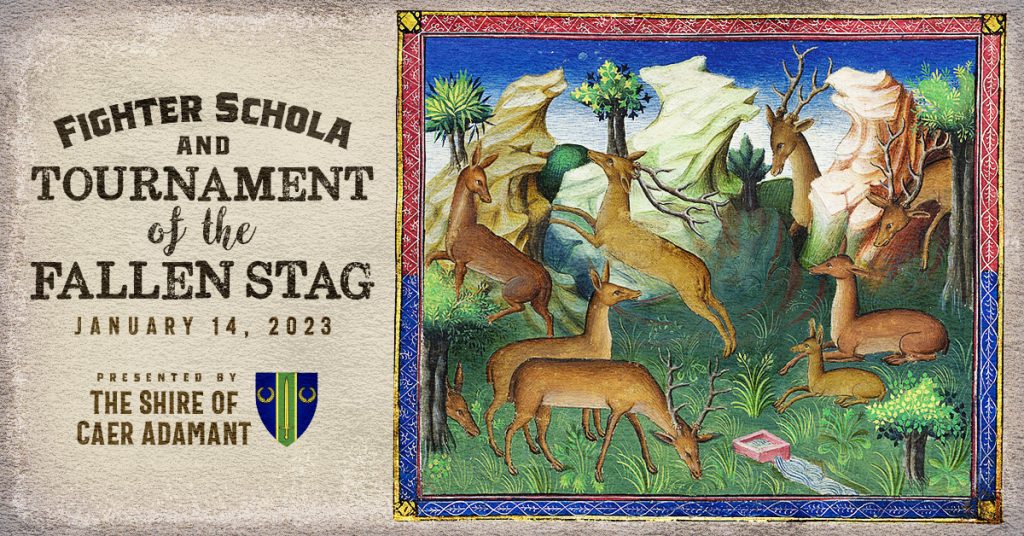 Join the Shire of Caer Adamant on Saturday, January 14, 2023, for a day-long event featuring tournaments, classes, panel discussions, and much more!
FIGHTER SCHOLA
Have you ever wanted to learn more about fighting? Interested in picking up a rapier? Just how much does a rattan fighter's helm weigh? What's a quick and easy way to make a Favor that lasts for your fighter? The Shire of Caer Adamant will be holding classes throughout the day on all of those – and more! A robust class schedule will be made available in the week prior to the event, but expect to see many familiar faces both presenting and attending!
TOURNAMENT OF THE FALLEN STAG – 10th ANNIVERSARY
We are thrilled to hold the 10th Tournament of the Fallen Stag as the Shire of Care Adamant hunts for their new Armored and Rapier Shire Champions during this event. Other noble deeds will be awarded. Championship competitions will be held during the day, concurrently with classes (indoor fighting space is available in the face of wintery weather conditions).

Duties of the armored Shire Champion (PDF): https://drive.google.com/file/d/1ZJvkwxgNg_Gn9OJj4QNeZASKJr_u9ruP/view
---
TOURNAMENTS
All combat activities during this event shall be conducted in accordance with the rules of the SCA, Society and East Kingdom.
Armored Combat
Gather your weapons and be prepared to fight in a timed Bear Pit with retained injuries, 60-minutes! The Armored Combat Championship tournament will be divided into two bouts. During the first, 20-minute bout, fighters will enter the list to challenge their opponent with great weapons.
During the second, longer bout, fighters will spin our WHEEL OF DOOM to determine the weapon form they charge into battle wielding. The Wheel of Doom could have sword and round shield, two weapons, great weapon or spear, so bring everything you own! There may be other weapons forms. Will axes show up? Broken Lances? Flailing Cats? Rats on a stick? Come and find out!
Rapier Combat
The Rapier Championship format will be announced at the event.
DOWNLOAD THE SCHEDULE (PDF): http://tiny.cc/dl33vz
CLASSES
Here's a small preview of classes planned for the schola!
Tournaments and classes will be running concurrently, so review the schedule closely when it becomes available! The schedule will include times, locations, class descriptions, and instructors. Material fees may be applicable in certain courses (not to exceed $15).

~Rattan 101
~Melee Tactics
~Rapier 101
~Deeds & Tournaments
~Appliqué (Arts & Science)
~Best Methods of Helm Padding
~Care & Feeding of Fighters
~Fiore Technique
~What is a Minister of the Lists and How to Become One
~Mental Health & Fighting
~Shields Styles
~And so much more!!
---
THINGS TO DO

···A&S Swap (3:30 pm)···
Craft a piece of period work of Arts or Sciences, the hours of work and monetary value of the gift being at your pleasure.  Wrap your gift, leaving it unmarked, and place it in the designated area in anticipation of an exchange, by random draw, during the event.  The goal is for all participants to go home with something different than that which they made and donated and to share the love for the A & S Community and the time and effort which goes in to creating period works. This is a great way to meet local artists, share your work, and receive something new of your own!

···Bardic Open Mic Unplugged···
Seeking an audience for a new piece you want to sing or play? Interested in having a jam session with some fellow bards? All skill levels and bardic arts welcome!  We ask a courtesy of 10 minute performance time, unless your audience calls for an encore.  No AV hook ups available. Venue acoustics are great for choirs, oratory, and music of all sorts! 

···Beggar's Court (5:15-7:00 pm)···
What's the best part about Court? Pageantry and Puns, for starters!  But even more so, seeing your friends and loved ones recognized for the extra spark they bring to The Dream.  Caer Adamant will be hosting a small court after classes are finished for the day, but better hide your coronets!  Beggar's Court is presided over by Ruler/King/Queen-for-the-Day*!  Interested in this august, if temporary, honorific? Visit our Silent Auction for the right to name the Ruler-for-the-Day!  Name yourself, name a friend or frenemy -but be wary!  If they refuse, the responsibility of rulership falls to YOU.

The Ruler-for-the-Day will take petitions from the populace, issue decrees as suit their pleasure and incredibly limited powers, and otherwise act in all Pomp & Circumstance as befits their title.  Crown included.

*Ruler-for-the-Day is recognized as nothing more than bragging rights and is not recognized by the Kingdom of the East or other SCA branches.

···Silent Auction···
Seeking beautiful and unique items as gifts or treasures for your own?  Donations are always welcome, but why not get something for yourself too? Scribal writing desk, panoramic Pennsic photography, and more!  Collections and registry sheets will be available in the Chatelaine Lounge. *NOTE:  Cash and checks only for payment for the winning bids (we cannot accept credit cards). Winners will be announced at 5 PM, prior to Beggar's Court.

···Youth Activities···
Bring the kids!  The Pride of the Barony of Bhakail and strangers to none, Rosie Posie and John Patrick will be offering Youth Activities throughout the day.
---
MERCHANTS
*Eclipse Crafts (handcrafted wood burning decor and other items)
*Maheurin Bespoke Works (leather goods, woodworking & more)
*Peacock & Crane (vintage kimono & sari and other unique items)
*Sage's Path (tarot readings and other divinatory services)
---
FOOD
A hearty dayboard, created by Dining With Lorenzo and headed by Anna Mattocks, will be served at 1:30 pm to accommodate tournament participants (and is included in the registration fee).
IMPORTANT NOTES:
1) The site is NUT FREE. Please do not bring nuts of any kind to the site; thank you.
2) The site is wet, please bring, share and imbibe responsibly.
3) As dayboard will be served later than might be customary, you are encouraged to bring your own nut free snacks, food and beverages.
4) Don't feel like packing a picnic? Our event site is located near many wonderful restaurants and eateries – you could even get delivery!
Dayboard Menu (1:30 pm or so)
Meat Hand Pies (ground beef)
Roasted Root Vegetable Soup (vegan and gluten free)
White Beans (on the side to add for protein)
Cured Cubed Meats
Cubed Cheese
Hard Boiled eggs
Pickles
Pretzels
Rolls (wheat, white, gluten free)
Fruits (apples & oranges in wedges)
Beverages (all day)
Coffee, Tea, Water, and Gatorade available throughout the day
---
REGISTRATION FEES (includes nut free dayboard)
$15 Pre-registered Adult with Member Discount ($20 at the door)
$20 Pre-registered Adult ($25 or at the door)
$5 Youth (ages 10-17)
$0 Child (9 and under)
Pre-Registration Deadline:  Tuesday, January 10, 2023
Make Checks Payable to: SCA Inc Shire of Caer Adamant
Send Reservations to:  Ellie Woodruff, 160 Channing Drive, Bear, DE 19701
---
EVENT LOCATION
First Unitarian Church of Wilmington
730 Halstead Road
Wilmington, DE 19803
Google Map
The event site is accessible per the East Kingdom Accessibility Porter's Checklist.
Site Opens: 9:00 am
Site Closes: 7:00 pm
NEARBY LODGING (distance from the event site)
Holiday Inn Express, 300 Rocky Run Pkwy, Wilmington, DE 19803, ihg.com, 302-479-7900 (1.3 miles)
Courtyard by Marriott, 320 Rocky Run Pkwy, Wilmington, DE 19803, marriott.com, 302-477-9500 (1.4 miles)
SureStay Plus Hotel, 1807 Concord Pike, US-202, Wilmington, DE 19803, bestwestern.com, 302-656-9436 (1.4 miles)
DoubleTree, 4727 Concord Pike, Wilmington, DE 19803, doubletree3.hilton.com, 302-478-6000 (1.5 miles)
Days Inn, 5209 Concord Pike, Wilmington, DE 19803, wyndhamhotels.com, 302-298-0732 (2.0 miles)
The Inn at Montchanin Village & Spa, 528 Montchanin Rd, Wilmington, DE 19710, montchanin.com, 302-888-2133 (2.8 miles)
NEARBY RESTAURANTS (distance from the event site)
Five Guys Burgers, Fairfax Shopping Ctr., 2217 Concord Pike, Wilmington, DE 19803, fiveguys.com, 302-654-5489 (1.2 miles)
Grotto Pizza, Fairfax Shopping Ctr, 2015 Concord Pike, Wilmington, DE 19803, grottopizza.com, 302-888-2222 (1.2 miles)
IHOP, Fairfax Shopping Ctr , 2001 Concord Pike, Wilmington, DE 19803, ihop.com, 302-427-3860 (1.4 miles)
Olive Garden, 305 Rocky Run Pkwy, Talleyville, DE 19803, olivegarden.com, 302-477-0870 (1.2 miles)
TGI Fridays, 301 Rocky Run Pkwy, Wilmington, DE 19803, tgifridays.com, 302-479-7170 (1.3 miles)
The Green Turtle Sports Bar, 307 Rocky Run Pkwy, Wilmington, DE 19803, thegreeneturtle.com, 302-510-6166 (1.4 miles)
---
EAST KINGDOM EVENT LISTING
https://www.eastkingdom.org/event-details/?eid=4102
HEALTH ACKNOWLEDGEMENT
Although the SCA complies with all applicable laws to ensure the health and safety of our event participants, we cannot eliminate the risk of exposure to infectious diseases during in-person events. By participating in the in-person events of the SCA, you acknowledge and accept the potential risks. You agree to take any additional steps to protect your own health and safety and those under your control as you believe to be necessary.
---
CONTACT INFORMATION
Autocrat: Hank Salvacion (Tanaka Raiko)
845-545-5274
HSALVACION@GMAIL.COM (email will get you a fastest and better response)

Deputy Autocrat: Kevin Aughtman (Gunainm Faol)
kpaughtman2@gmail.com (please use subject line "Fighter Schola")

Site Coordinator: Ellie Woodruff (Motte Nachfalter)
302-354-5484 (Text Only, please)
235409@members.eastkingdom.org

Merchant Coordinator: Kevin Aughtman (Gunainm Faol)
kpaughtman2@gmail.com (please use subject line "SCA Merchant")