Tournament of the Fallen Stag – 10th Anniversary!
Saturday, October 1, 2022 IS CANCELLED
It is with great regret that, due to upcoming weather conditions and the impact it will have on our event, we must cancel the Tournament of the Fallen Stag. Stay home, stay dry, stay warm. We'll come out with more information for our rescheduled date soon. Apologies, deeply and truly. We miss you folks!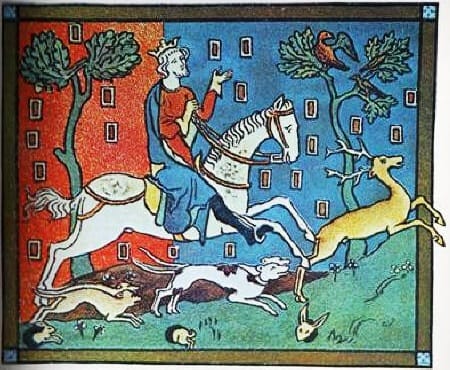 CALL TO ARMS!
Come, join us in celebrating the 10th Anniversary of the Tournament of the Fallen Stag on Saturday, October 1st in Newark, Delaware, an idyllic time to see friends, enjoy a potluck feast and vie for prizes AND the Shire Championship!
As Summer spends the last of its warmth and light, and we move to Fall Harvests and Hunts, so do we welcome you to accompany us to cool glades to gather and make merry for the first time in many years.
SHIRE CHAMPION: Learn about the honor of becoming Shire Champion.
TOURNAMENT ENTRY (Food Drive)
To gain entry into the tournament, every fencer and fighter is asked to bring one bag of unexpired, nonperishable food items for donation to the Food Bank of Delaware.  We hope to help those whose winter stores are not yet filled.
Most Wanted Foods include: Unexpired Hot and Cold Cereals, Peanut Butter, Canned Fruits, Canned Meats, Canned Vegetables, Rice/Pasta and Fruit/Vegetable Juice (download list: https://www.fbd.org/wp-content/uploads/2021/04/Most-Wanted-List.pdf)
A&S DISPLAY & EXCHANGE
Be part of a display of craftsmanship from the Known World! Bring your completed item, so that you may share, inspire, and enrich our Society. You will have the opportunity to talk about your item to others and in this way perhaps discover a new passion; make a new contact, and have fun! The Exchange is not a competition, each participant will receive a number that correlates to one of the items up for exchange. Then each participant will draw a number and they will receive the item whose number they have drawn. We anticipate having a pop-up outside with a 6' table (bring your own seating). We welcome all with interest in the pursuit of Medieval Arts and Sciences.
SILENT AUCTION
Caer Adamant will hold a silent auction with proceeds to be donated to the Shire's resources. If you have an item you would like to donate for the auction feel free to bring it along and let us know when you check in. Collections and registry sheets will be available at Troll. NOTE: Cash and checks only for payment for the winning bids (we cannot accept credit cards).
KID GAMES
And the kids… even the adult kids… have to do something for the kids! We have games… Kubb to test your throwing skills, and one called Blind Squire that involves bells, blindfolds, socks, and running away. Some fantastic fun for participants and spectators alike.
FEAST GEAR EXCHANGE
There will be a Feast Gear Exchange tent, set up near Troll, for people to exchange or donate clean feast gear they no longer use or have too many of so that others may enjoy them. Items might include baskets, plates, bowls, cups or mugs, table clothes and napkins, and serving dishes. Utilize this opportunity to build your first feast gear set or augment your current one!
SPECTATORS
All are welcome and encouraged to watch the chivalrous efforts of the combatants and the wearing of pre-17th century garb is encouraged. The Shire will have its Gold Key (period clothing that can be borrowed, free of charge, for the day) on hand and available for those who wish to take advantage of it. Remember to bring your favorite seat!
SITE INFORMATION
The site, a public park, is very dry. Restrooms, located in the pavilion, will be open and available.
DAY BOARD
All attendees are encouraged to bring a dish to share (consider bringing enough to serve 15 or more people and be sure to adhere an ingredients list to your dish to share).
The Shire will provide bread, water, and servers for the potluck day board. Water coolers will be available and attendees are asked to provide their own drink containers.

Baron Adolphus will judge the contributed foods based on the categories shown below. Winners will receive fabulous prizes!
–Best Medieval Dish
–Best Tasting Dish
–Best Subtlety Dish

Otherwise, all attendees are encouraged to bring their own picnic food, beverages and gear (dishes, cutlery, disinfecting / cleaning supplies and etc.). While consuming food or beverages, attendees are encouraged to remain stationary and follow existing social distancing guidelines.
Feel free to bring your own pop-up, tables, chairs, blankets and whatever else you might need to be comfortable.
EVENT LOCATION / DIRECTIONS
Glasgow Regional Park
Pavilion #3
2275 Pulaski Highway
Newark, DE 19702
View a site map (https://g.co/kgs/H5pHwd). Pavilion 3 is located near to Parking Lot D with over flow parking available at Lot E just inside the East Entrance to the park.
REGISTRATION FEES AND RESERVATION DEADLINE
Continuing Shire tradition, this event is free.
However, everyone is encouraged to join the fighters and fencers in bringing unexpired, nonperishable food items for the Food Bank of Delaware (see Most Wanted Foods List above).
MORE INFORMATION
EK event listing: https://www.eastkingdom.org/event-details/?eid=4066
Although the SCA complies with all applicable laws to ensure the health and safety of our event participants, we cannot eliminate the risk of exposure to infectious diseases during in-person events. By participating in the in-person events of the SCA, you acknowledge and accept the potential risks. You agree to take any additional steps to protect your own health and safety and those under your control as you believe to be necessary.
CONTACT INFORMATION
Baroness Laurena Mouchot, Autocrat
Freodhoric, Deputy Autocrat
223622@members.eastkingdom.org