Hunter's Picnic
Sunday, June 12, 2022 – CANCELLED due to inclement weather
11:00 AM to 5:00 PM
Wilmington, DE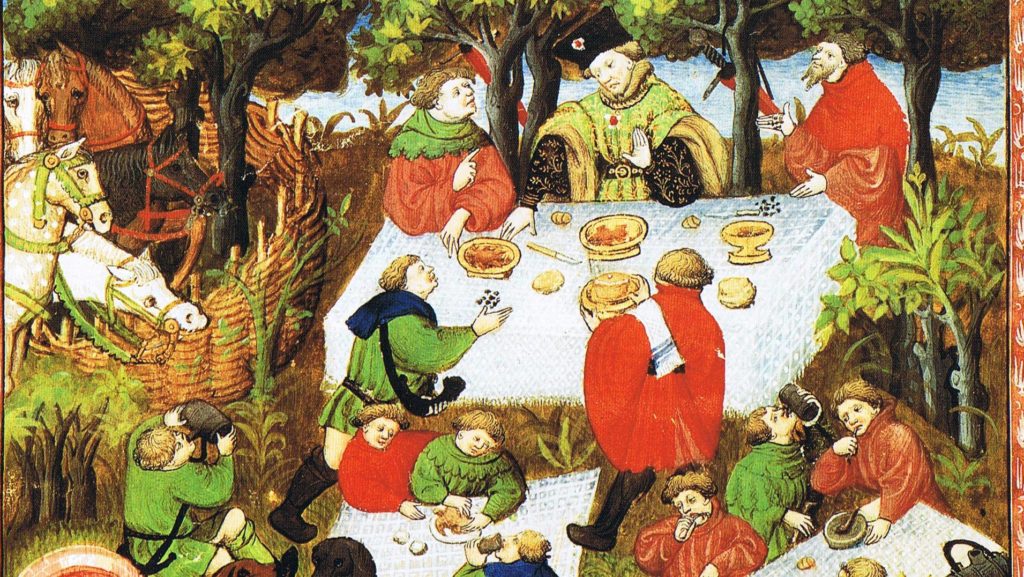 As Summer spreads it's warmth and light, so do we spread our picnic blankets in cool glades to gather and make merry for the first time in many years.
Come join us for Caer Adamant's Hunters Picnic, an idyllic time to see friends, enjoy our homemade feasts, and vie for prizes!!
Our long awaited Shire Champion tournaments will be held for both rapier and rattan! Bragging rights and prizes will abound.
(Format for tournaments TBD.)
But you need not bear arms to come home with trophies! Our pride in a good picnic is greater than the average bear!
The Shire of Caer Adamant is glad to announce it's Dayboard Challenge!
As the Shire will not be providing dayboard, we encourage all attendees to bring lunches, snacks, and beverages (this is a wet site!), but for those who want to take it to the next level, you can win honors for the table you spread!
Dayboard Challenge will award prizes for the following categories:
–Most Creative
–Most Period
–Best "Hunter Picnic" (incorporate items that would have been eaten on a hunt or hunter theme accoutrement)
–Judge's Choice
Bring your own pop-ups, camp chairs, and tables!
**This Event is Rain or Shine**
BUT WAIT, THERE IS MORE!
Not only will we have the benefit of cool shade trees and the distant sound of sheep, but we will have access to the Historic Mill, for folks who want to teach A&S, gather for guild meetings, or just find a break from the outdoors.
Caer Adamant will be holding a raffle, with ticket proceeds to be donated to the Shire's resources. Tickets available at Troll!
This is a FREE event! We do require Troll in for both membership and proof of vaccination/negative PCR test. Donations are always welcome!
LOCATION
Greenbank Mills & Philips Farm
500 Greenbank Rd
Wilmington, DE 19808
Attendees can drop off peoples, sunshades, and chairs for ease of transportation, but all vehicles must be parked in the adjacent lot. Attendees will have the great opportunity to enter the site by taking a scenic footbridge over a neighboring creek!
REGISTRATION FEES
Free Event, Donations Welcome.
View Listing on East Kingdom calendar
COVIDSafe Policy
The COVIDSafe Policy remains in effect, requiring all attendees eligible to receive the COVID vaccine (currently 5+) to provide proof of vaccination or medically-supervised negative COVID test in the 72 hours prior to the official activity. Full policy here: https://www.sca.org/news/covidsafe-proof-of-fully-vaccinated-status-or-negative-covid-test-policy-resolution/
SCA Health Statement
Although the SCA complies with all applicable laws to try to ensure the health and safety of our event participants, we cannot eliminate the risk of exposure to infectious diseases during in-person events. By participating in the in-person events of the SCA, you acknowledge and accept the potential risks. You agree to take any additional steps to protect your own health and safety and those under your control as you believe to be necessary.
Updates & Cancellations
As weather is always happening, be sure to check our Facebook page for activity updates and cancellations. A decision to cancel this event will be announced the day/evening before.
CONTACT INFORMATION

Autocrat
Lord Hallbjorn Tryggvason
235120@members.eastkingdom.org
(860) 904-3992
Deputy Autocrat
Lady Motte Nachfalter
235409@members.eastkingdom.org
(302) 354-5484