Greetings! Join us for this monthly, informal gathering where we work on A & S projects together. Come with your own project or learn something new! Dress is modern.
WHEN
Tuesday, February 4, 2020 from 7:00 to 9:00 pm.
WHERE
The home of Baroness Hedewigis, 1604 Old Wilmington Road, Hockessin, DE 19707.
NECKLINE OPTIONS FOR BASIC T-TUNICS
The neckline is the top edge of a garment that surrounds the neck. The neckline is primarily a style line, but it can also be a boundary for shaping (i.e. cowls, darts, pleats, similar to the waistline). 

Come, learn about Neckline Options for the basic t-tunic!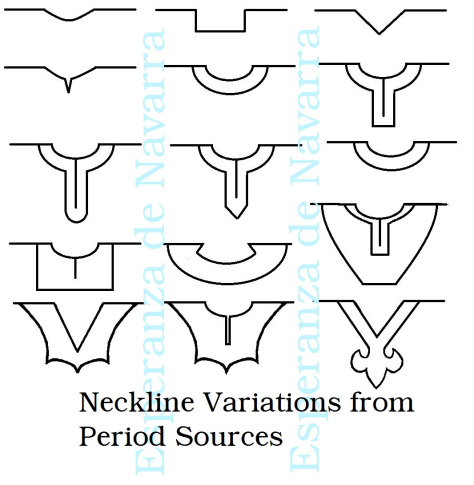 GARB SHOW & TELL
Assorted pieces of garb will be displayed and discussed.  See and learn how folks developed and constructed their garb.  Bring your favorite piece for an opportunity to show and discuss it.  Come, be inspired!
JOIN US
Hope to see you there starting the new year learning something new!
EVERY MONTH
Baroness Hedewigis hosts an A&S Night on the first Tuesday of every month starting at 7:00 pm.  Contact Baroness Hedewigis 302-239-9787 if you have trouble getting to her home, which is a modified red barn.  Carpooling to the site is highly encouraged.